Webull Review: Platform Highlights
100% commission free trading. 
Free short selling. 
Free after-hours/extended hours trading. 
Easy access to margin. 
Research oriented platform with many advanced features. 
If you sign up via our link, you'll get a free stock(up to $1400)
Webull Online Brokerage Review
Webull is an exciting online brokerage that allows you to trade stocks without commission fees.
They offer a huge range of investment tools in a comprehensive app to help you master new investment strategies and grow your wealth. They're one of a few of commision free online investing platforms that have come out recently.  You've probably heard a Robinhood, who was the pioneer in this niche.  We think Webull has several advantages over Robinhood.
Webull is similar to many other new investment apps in that they offer convenient stock trading with minimal fees.
However, Webull really stands out among the crowd because of its technical, research-based investment options as well as a wide range of advanced features.
While other online stock broker services focus mainly on young or beginner investors, Webull aims to set themselves apart from the pack by catering to more serious traders.
What is Webull?
Webull is a new commission-free stock trading app that launched in May of 2018. After Robinhood paved the way for these commission-free trading platforms, Webull saw an opportunity to offer users a more robust trading platform. Most people are familiar with Robinhood, but this new trading platform should not be overlooked. They really pick up where Robinhood leaves off in terms of the features and data available to traders.
All of their investment tools are driven by in-depth stock market research and real-time analysis. According to Webull's CEO, Anthony Denier, one of the platform's biggest goals was to make professional-level investment tools and information available to anyone.
At the end of the day, when you are comparing these free trading platforms, what sets them apart is the features offered. Some of the unique features of Webull are a built-in stock trading simulator, commission free short selling, free extended hours trading and access to a lot more data and research tools. This makes for an ideal platform for active traders.
Who is Webull For?
Because of Webull's advanced trading features, it's not ideal for complete investment beginners.
Instead, it's an excellent platform for traders who have some experience, maybe on simpler platforms, who want to expand their investment efforts.
Webull is also perfect for active traders who love diving into the research behind the stock market. If you prefer to take a long-term approach to your investments, this may not be the best choice for you.
However, you don't have to be a professional to use the platform.
Webull offers analytics and other tools that can help you build on your online stock trading experience. If you're looking to make the leap from a casual investor to a more active trader, this is the perfect app to help you do so.
Is Webull Legitimate?
Since they don't charge commission fees, you may be wondering, 'is Webull legit?'
Webull is a legitimate broker dealer that is registered with the SEC. They are also members of FINRA and SIPC. Webull works with Apex Clearing Corporation as well, which offers insurance protection on top of the standard SIPC protections.
You can use Webull to trade stocks and ETFs an options. The app encrypts your personal information, so it is completely secure.
You can expect to pay some fees in Webull, although they are minimal. There are small fees charged by the SEC and FINRA.
SEC fees are $13 per $1 million of principal, and FINRA fees are $0.000119 per share, with a minimum of $0.01 and a maximum of $5.25. Webull also does charge margin fees of 3.99 to 6.99 percent. The larger the trade you are making, the lower your fee will be.
This only applies to those placing margin trades. Otherwise, you can trade with no fees on buys or sells, even if you're short selling.
How Does Webull Make Money?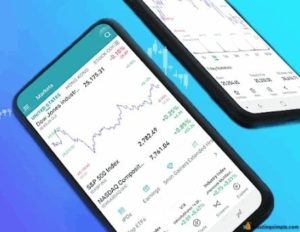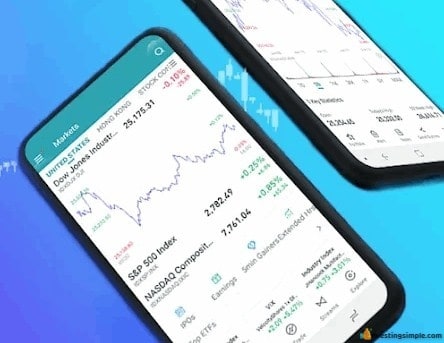 A lot of people are wondering how Webull makes money, and for a good reason! There are many free trading apps out there these days. We are here to tell you that they are not, in fact, operating a charity or ripping anyone off trying to beat the system.
It seems counter intuitive that the platform is generating profit since they do not charge investors any fees or collect any commissions. If you're scratching your head over this, here are the answers to these perplexing questions.
They offer paid subscriptions if you are looking for real-time global market data.
Webull offers margin accounts, allowing them to earn margin interest.
They can earn interest on all the idle cash held within brokerage accounts.
By directing order flow, they earn fractions of a cent on every trade placed.
Just to be clear, they do not charge any fees or commissions to customers!
How to Get Webull Free Stocks
You might be ready to sign up for Webull right now. But before you do so, make sure to read our recent article on how to get free stocks by signing up on Webull.
To get started with Webull, you'll need to download their app and set up an account.
Your account needs to be approved by Webull before you can start trading. This usually takes less than an hour. However, there are some instances where they may need more verification, and the process takes longer.
You must be 18 years of age and have a valid Social Security Number to sign up with Webull.
If you want to take some time to learn how Webull's features work, you can start with a paper trading account, which doesn't require any deposits and won't yield any actual money.
When you're ready to start trading for real, you will need to fund your account through an ACH transfer from your bank. There are no bank transfer fees from Webull, but your bank may charge a small fee for outgoing transfers.
There is no minimum deposit required on Webull, and it's one of the only platforms right now that allows you to start a serious investment campaign with minimal capital.
The only trades that do require a minimum deposit are margins trades.For these types of trades, you will need a minimum of $2,000 in your account.
Webull will actually give you a free stock for getting started. The potential value is $1,400.
If you sign up via our link, you'll get a free stock(up to $1400)
Webull Features
Real-Time Data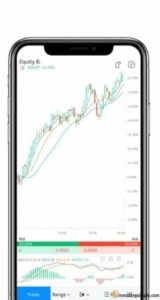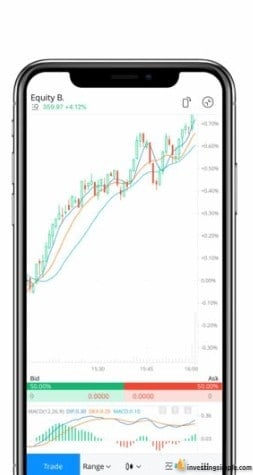 Webull is most well-known for the data. In fact, they were initially just an app for investment research before they added the trading feature! Webull offers real-time market data on US markets to all users for free. If you are looking for data on global markets, it is available for a monthly subscription. As mentioned earlier, selling global market data is one of the ways they make money.
You do not need to pay for any subscriptions to get access to real-time US market data. Real-time data is essential when you are using it to make trading decisions. At the blink of an eye, micro-trends can happen that traders are often looking to capitalize on. When price data is delayed in reporting, this could be very costly for an active trader.
Trading Simulator
One of our favorite features is the onboard trading simulator. Investing or trading stocks for the first time can be very nerve-racking, especially if it is with a trading platform that you are not familiar with! The trading simulator allows you to practice in "sandbox mode" with fake money to hone your skills, familiarize yourself with the trading platform, and understand how each of the different order types of work.
It's a great way to learn how to maneuver your way around the trading of stocks and ETFs without emptying out your wallet. Go ahead, challenge your family and friends to make a higher profit buying and selling. Who cares if it is just Monopoly money? You could still be the winner.
Commission Free Short Selling
For those who are interested in short selling, Webull offers this commission free. Short sales must take place within a margin account, and you must have a minimum balance of $2,000 to open one with Webull.
In a short sale, you are betting against a stock by borrowing shares with the plan to repurchase them at a later point in time. This is a complicated subject, but you essentially make money when a stock or asset goes down in value. Most free trading platforms do not offer short selling. Webull offers this commission free within a margin account.
Short selling happens when investors sell stocks they do not own. Short sellers believe the price of the stock will fall, or are seeking to hedge against potential price volatility in securities that they own.
If the price of the stock drops, short sellers buy the stock at the lower price and make a profit. If the price of the stock rises, short sellers will incur a loss. Short selling is used for many purposes, including to profit from an expected downward price movement, to provide liquidity in response to unanticipated buyer demand, or to hedge the risk of a long position in the same security or a related security.
What Is Margin Trading?
As mentioned earlier, short selling must take place within a margin account on Webull. Margin trading is a form of borrowing, that lets you leverage the funds and securities you already own to purchase additional securities.
With a margin account, you can borrow funds from your brokerage firm, it provides a great opportunity for you to leverage your investment to help increase your return. At the same time, it has the risks to magnify your losses.
Extended Trading Hours
The stock market, like any other business out there, has hours of operation. Those hours are Monday through Friday, 9:30am to 4:00pm EST. Most trading platforms only allow you to place trades within that window.
Webull offers all users the ability to place trades pre-market and after-market. You can place trades anywhere from 4:00am to 8:00pm EST Monday through Friday. This is especially important if you are trading stock during earnings and want to sell right after the bell, or you want to get in on a stock that is reporting earnings pre-market.
Keep in mind that the price volatility can be much more higher during extended hours, compared to the price volatility during normal market hours. You may wish to limit prices to place an order.
Webull Day Trading
You can day trade stocks on the Webull platform. However, it is important that you are familiar with something called a day trading or "DT" Call. A DT Call occurs when your day trading exceeds the largest day trading buying power issued on a given day.
A DT Call can ONLY be met by depositing funds in the full amount of the call. Liquidating stocks cannot meet a DT Call. The funds must stay in the account for at least 2 business days before your account is once again good standing.
Penalty For DT Call:
If there is 1 open DT Call, the market will calculate your day trade buying power on 2 times minimum maintenance excess and no time and tick release (PDT account). Non-PDT accounts will receive 4 times and still no time and tick release.
If there is 1 DT Call past due, the market will restrict your account to liquidation only for 90 days.
Finally, if there are 2 DT Calls past due, your account will be subject to a 90-day closure by the market. If you deposit the sum money of all DT calls during this 90-day closure period, you can reopen your account.
Webull Research Tools
Fundamental Data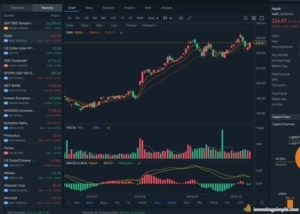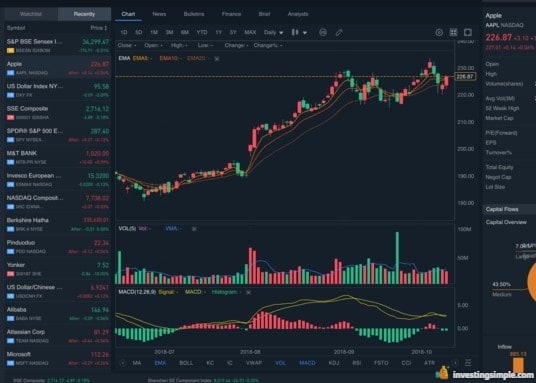 Fundamental investors study the financial health of a company to make a long term bet. They look at key financial documents like the balance sheet, cash flow statement, and income statements. They also look at key metrics like earnings per share, PE ratio, and more!
Webull places all of this data at your fingertips. You can view the numbers from the key financial documents as well as see visual graphs of the overall trends. They also offer helpful comparison tools that compare the metrics of one company to another in the same industry.
You will be able to answer questions like:
Is the company beating earnings expectations?
Are profits and revenue increasing?
What are the assets compared to the liabilities?
How does the overall valuation compare to peer companies?
Technical Data
Not everyone follows a fundamental approach when making investment decisions. Many rely on something called technical analysis, which is reading the charts and following the trends. Webull offers over 20 different technical indicators on the platform. These charts are used by traders to identify micro trends to capitalize on. You will not find this many indicators on other free trading platforms out there. This includes popular indicators like moving averages, Bollinger bands, volume, candlestick charts, MACD, RSI, and more!
Worldwide Market Data
Webull platform embraces worldwide financial data.
5 Categories: Equites, ETFs, Indices, Forex, Futures.
100+ Exchanges: NASDAQ, NYSE, LSE, HKEX, SGX, NSE, BOM etc.
Some of this data is free, while others come with a monthly subscription.
Financial Calendars
Another useful feature for users is the financial calendar. This calendar shows you important upcoming dates for a company, including dividend payments and earnings reports. Beyond that, there are also calendars that show what companies are reporting earnings each week as well as what are the up and coming IPOs or initial public offerings.
Watchlists And Alerts
Webull allows you to create watchlists of stocks that you want to keep an eye on! You can also set price alerts that will allow you to get notifications from Webull when the price reaches a certain level. For example, if you were looking to buy a stock for under $100, you could set a price alert for when it reaches that level and receive a notification from Webull.
Webull Review Conclusion
Webull's huge library of helpful features makes it one of the best online broker services available right now.
It's also one of the only services in this category that caters to the true intermediate investor – someone who has some investment experience but wants to keep growing their wealth using more advanced strategies.
And if you are an advanced investor who feels limited by commission fees, this could also be a great option for you.
The lack of commission fees and minimum balances combined with such incredible tools makes Webull a top pick for investors at the moment.